Chart Navigation for the iPhone, iPod and iPad based on award winning Imray charts. Plan your routes and share tracks with your crew or friends. For sailors, divers, canoeists, fishermen and anyone involved with making way at sea.
Features
- Award winning raster charts from Imray
- Waypoints
- Routes: distances, targets, bearings
- Position and destination
- Course to steer, speed and bearing
- Magnetic compass
- Distances, bearings from any point to any point
- Electronic bearing line
- GPS and instruments
- Tides with full functionally from Tides Planner
- Aerial photographs (subject to coverage) and harbour plans
- Tracks which you can share with friends
Written by sailors for sailors.
This size of this application is large. We recommend downloading using high speed broadband to a computer and then synchronising with the device.
---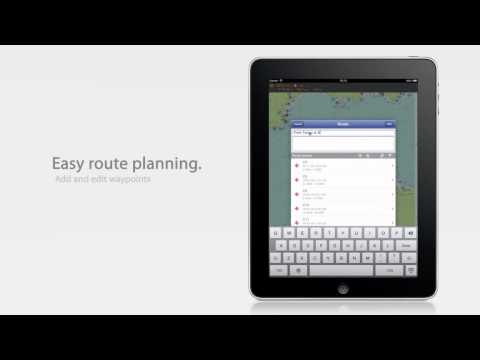 ---
Universal – iPhone, iPod and iPad
One app purchase to run on all your devices, whether iPhone/iPod or iPad.
Take your charts and plans in your pocket or take advantage of the larger screen in the iPad to dream about your trips.
See your destinations in beautiful aerial photographs. Make calculations and plans wherever you are.
---
Routes and WaypointsCreate routes easily by tapping on the screen. Measure distances from route point to route point.
Add waypoints at any location on the chart and make the waypoints part of a route.
Simple and easy touch menus and screens to name and maintain your navigation data.
Charts
Select a chart by tapping on a point or the charts menu button.  Choose by looking at the charts that cover the point tapped or that overlap the area on the screen.
Sharing
Export a track for your friends to see in Google Earth ™.
---
User Manual
Read about the functions of Chart Navigator in the User Manual, in six languages.
Chart Navigator User Manual
Chart Navigator Benutzerhandbuch
Manual de usuario de Chart Navigator
Mode d'emploi du Chart Navigator
Manual utente per Chart Navigator
Handleiding Chart Navigator
How to: Routes
---
Coverage
The Imray Charts free app and Chart Store – provides access to:
- North Sea: Belgium, Holland, East England and East/North Scotland.
- Channel: English Channel from the Isles of Scilly to the Dover Strait along the English coast and from Brest to Calais along the French coast.
• Atlantic France and Iberia: from Brest to the Strait of Gibraltar.
• West UK and Ireland: from Land's End to the Orkneys including all of Ireland.
• Netherlands 1800 series charts: the Netherlands coast and inland waterways.
• West Mediterranean: Strait of Gibraltar, mediterranean coasts of Spain and France, west coast of Italy.
• SHOM France Mediterranean including Corsica.
• Central Mediterranean: Adriatic and Ionic seas.
• Eastern Mediterranean: Aegean sea and eastern Mediterranean.
• BSH Germany North Sea.
• BSH Germany Baltic.
• Denmark North Sea and Baltic.
• Caribbean: east Caribbean.
• Australia:
- The north east and Barrier Reef: Cape York to Brisbane including the Great Barrier Reef and Whitsunday Islands.
- East and south east: Brisbane to Melbourne including Sydney.
- South and Tasmania: Cape Howe to Adelaide including Tasmania.
Chart corrections: the application includes sample charts charts and all functions. Charts can be purchased and downloaded  trough the Chart Store within the App.    Chart sets are updated yearly with revised charts.
Tides inherits permissions (beyond one day predictions) from the Tides Planner application if installed in the same device.
Languages
English, Dutch, French, German, Italian and Spanish